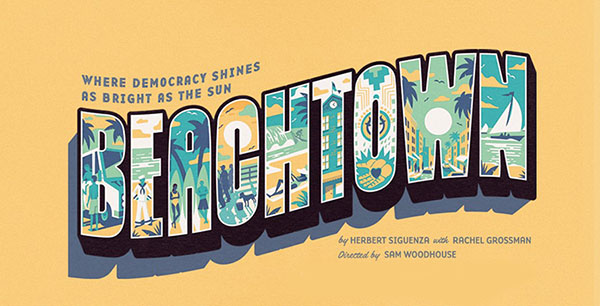 Beachtown Pre-Party
Come 30 minutes early and PARTY with us!
To get the most out of your Beachtown experience, we encourage you to arrive 30 minutes early. You can meet the Mayor and other unforgettable Beachtonians, snap a fun keepsake selfie to share on social media, pin yourself on our Where Are You From? global map, color on the enlarged community Beachtown city logo, and write about an artifact that you love and cherish. Best of all, bring a pre packaged food item to share with your neighbors at the Potluck at our Beachtown Pre - Party!

REP EXPOSED
TALKIN' THEATRE WITH TODD: THE MAGIC OF IMMERSIVE THEATRE
THURSDAY, MARCH 22 AFTER THE 8PM PERFORMANCE
How do you write a script for a play that changes every performance? Join REP Associate Artistic Director TODD SALOVEY after the show as he chats with the creative team behind Beachtown. Todd's guests will be REP Playwright-in-Residence and Writer of Beachtown HERBERT SIGUENZA, Beachtown Co-Writer & Ensemble Director at dog & pony dc RACHEL GROSSMAN and Co-Dramaturg / Associate Producer of Beachtown and REP Literary Manager DANIELLE WARD.


OPENING NIGHT PARTY
WEDNESDAY, MARCH 28 AFTER THE 7PM PERFORMANCE
After the opening night performance, join the cast and VIP's to celebrate at a neighboring downtown restaurant. Grab a drink and a bite to eat and mingle with the artists, patrons and fans.


SAM'S SALON: THE INSIDE SECRETS OF BIRTHING A BRAND NEW PLAY
THURSDAY, MARCH 29 @7PM BEFORE THE 8PM PERFORMANCE
Most of the theatre you see has been tested and refined with audiences around the country before it debuts on our local stages. The much more challenging show to put onstage is the brand new never seen before world premiere. What are the secrets to a successful creative birth? What's the truth about why one new play is cheered and another is dismissed? REP Artistic Director SAM WOODHOUSE hosts three new play veterans about the joys and terrors of birthing. Sam's guests are: former La Jolla Playhouse Associate Artistic Director and Dramaturg SHIRLEY FISHMAN, dog & pony dc writer and director RACHEL GROSSMAN and Culture Clash co - founder HERBERT SIGUENZA. Sam's Salon is Sponsored by SUZANNE AND LAWRENCE HESS.


MEET THE ARTISTS
FRIDAY, MARCH 30 AFTER THE 8PM PERFORMANCE
After the show, join the cast of Beachtown for an open discussion of the work onstage. REP Associate Producer and Casting Director KIM HEIL is your host. Share your thoughts and responses to the evening's entertainment.
CHEERS & COMMUNITY NIGHTS
AMIGOS DEL REP WELCOME THE NEW AMERICANS MUSEUM
SUNDAY, MARCH 25 AFTER THE 7PM PERFORMANCE
Join Amigos del REP, San Diego REP's ensemble of local Latino artists, to honor our community partner the NEW AMERICANS MUSEUM. Located in Liberty Station, the Museum provides inspiring educational and cultural programs to honor our diverse immigrant experience. Join the company after the show for complimentary sangria and an opportunity to learn about the current exhibits on display at the New Americans Museum.


FREE BEER FRIDAY
FRIDAY, APRIL 6 AFTER THE 8PM PERFORMANCE
Enjoy the performance of Beachtown then stick around for a beer from one of San Diego's award-winning breweries. Free Beer Fridays are Sponsored by SAN DIEGO CITYBEAT.
EXTENDING THE ART
ART GALLERY OPENING: WEST COAST DRAWING
FRIDAY, MARCH 23 @7PM BEFORE THE 8PM PERFORMANCE
WEST COAST DRAWING, a group of California artists working in drawing media, exists to highlight the importance, technical challenges and diversity in drawing. Inspired by the themes of Beachtown, members of West Coast Drawing created an installation that provokes thoughts and emotions of time, history, posterity and identity. Join the artists pre-show to see their amazing work and find out how you can become a part of their programming! This exhibition will be on view in the Lyceum Lower Gallery from MARCH 22 – APRIL 16, 2018.


ART GALLERY OPENING: RIC FEIFER'S REHEARSAL SPACE
TUESDAY, MARCH 27 @6PM BEFORE THE 7PM PERFORMANCE
Rehearsal Space is an exhibition of sketches, drawings and paintings that tells the story of talented people working to tell their stories. For eight months, local artist RIC FEIFER immersed himself in the rehearsals of each of The REP's productions in our 2017 – 18 Season. Feifer was a fly on the wall, capturing the beauty and drama of performers at work in his unique, evocative style. Join him pre-show for an inside look at the visual art he created during this season's rehearsals. This exhibition will be on view in the Lyceum Upper Gallery from MARCH 22 – APRIL 16, 2018.